Emotional Quotient™
Research indicates that EQ is 80 percent of leadership success!
EQ, or Emotional Intelligence, alone has been determined to be eighty-percent of leadership success! This is the factor that has been determined to account for a $29,000 difference in annual salary between leaders with high versus low EQ. These are skills that can be measured and learned!
Obviously that raise in salary doesn't take place in a year, but it has been proven that a one point positive change in overall EQ score is worth $3,000 in an annual salary. That's just a portion of the benefits of learning about talent analytics covered in this leadership coaching intensive, utilizing five highly validated assessment sciences, combined in two assessments packages. Completion takes less than an hour online.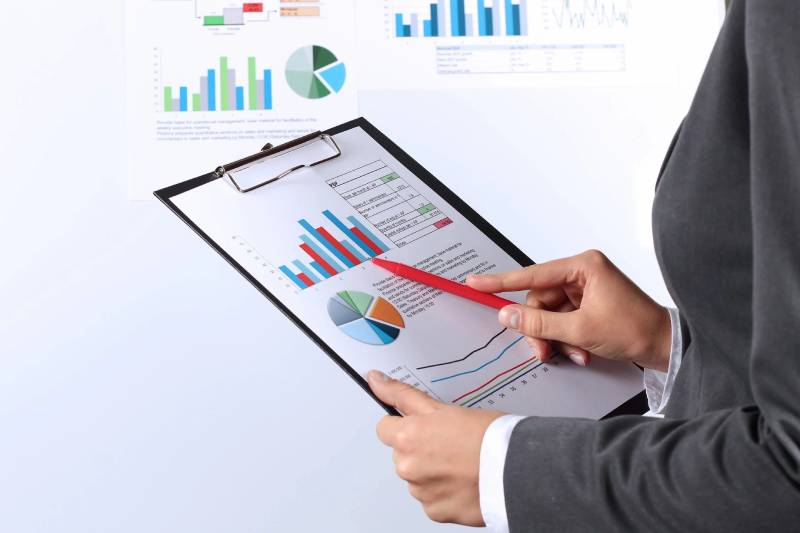 Talent Insights® Team Reports
Team reports allow you to combine multiple assessment results into a collective team assessment, which illustrates the breakdown of how each person fits the overall team dynamic.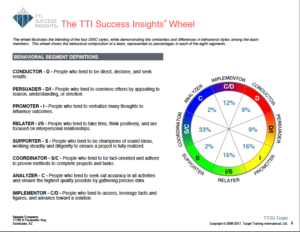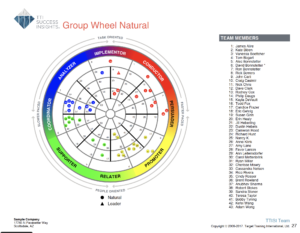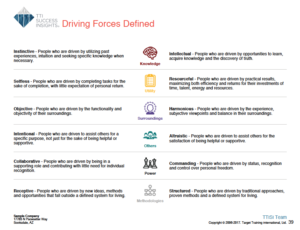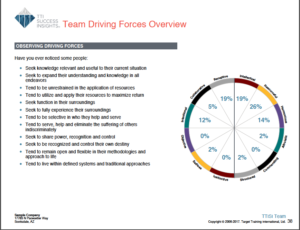 If, as a leader, you have ever wished for a users guide to your team members, this is it. Imagine, as a leader, having a clear understanding of team member strengths, value, communication style preferences, and areas of preferred avoidance. This helps learn the language of people reading. These skills will stay with you your entire career, long after the need for a report that explains the styles of the people you work with.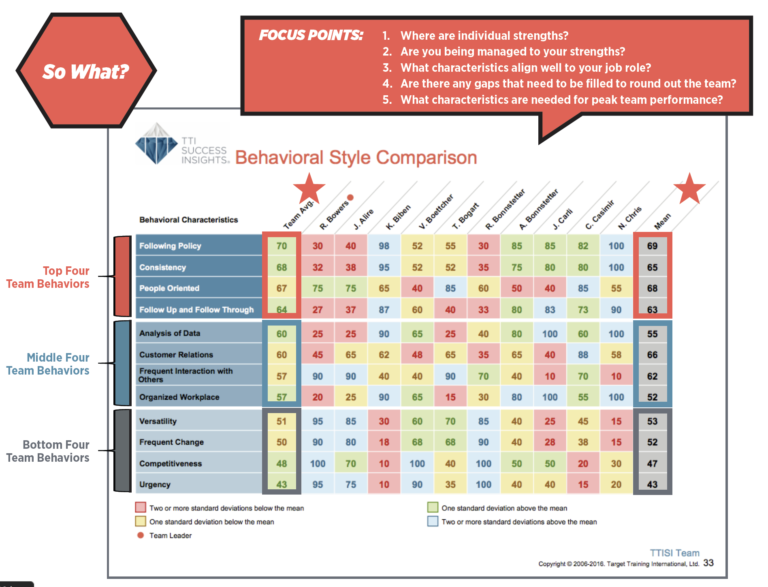 Sample Team Report Analysis Page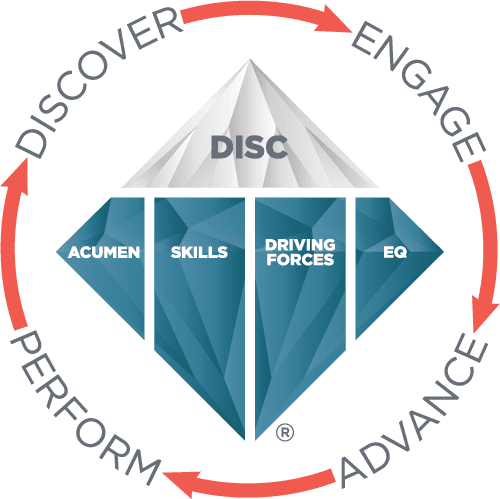 Multiple Talent Sciences: The Benchmark Measures to Create Your Career Master Plan
A Multiple-Science Approach to Assessments
DO YOU HAVE:
A way to DISCOVER, define, and measure inherent talent, styles, and skills?
A system in place to ENGAGE in goal creation, learning and action?
A method to ADVANCE skill development for you and your team?
Metrics for continuous and measurable PERFORMANCE IMPROVEMENT for you and your team?
Data is the beginning. Coaching is the partnership that utilizes the data to support your journey to your goals.
When assessing talent, you must consider the many factors that encompass the "whole" person. Our rigorously validated research has taught us the importance of measuring multiple factors. It requires multiple-sciences to see this whole person view.
The secret to reaching peak performance as a leader, in addition to hiring, leading, and engaging others effectively, lays squarely within understanding, objectively measuring, and then implementing developmental strategies around these measures. Knowing which factors are style related (not subject to change) and skill related (subject to improvement with effective development) is a critical leadership skill. Getting the right people into the right jobs, helping team members work together effectively, continuous development of performance and improved results, these are all critical success factors for a leader.
Assessment Sciences
12 Behavioral Factors (DISC)
12 Driving Forces (Motivators)
Personal Skills (DNA)
Personal Acumen and Axiological Dimensional Balance (HD/PTSI)
Emotional Intelligence (EQ)
The multiple-science approach considers over 100 factors whose relevance to performance depends upon position and career aspirations. The sciences can be selected to meet the needs of individual or organization goals.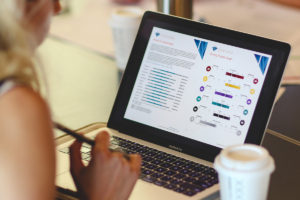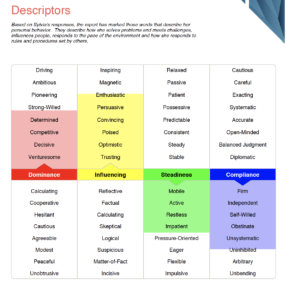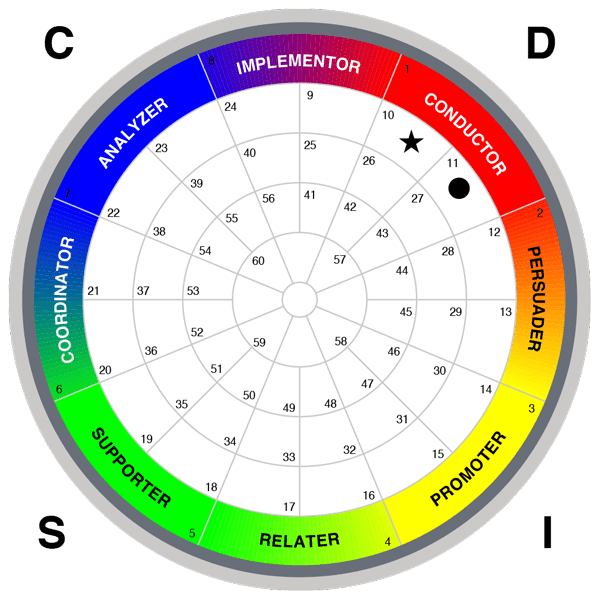 12 Behavioral Factors (DISC)
DISC reveals the ways in which one responds to:
Problems and Challenges – Dominance
Influencing Others – Influence
Pace and Change – Steadiness
Rules and Procedures – Compliance
Measured in four proportions (Dominance, Influence, Steadiness and Compliance), DISC Behavioral style analysis reveals a person's action preferences, revealing how an individual will behave and perform, including how they prefer to communicate, what they will naturally bring to a team, their ideal environment, and possible limitations they may face. The DISC language provides the foundational language for a leader to know and understand not only their own style, but to be able to detect the preferred style of team members, recognizing differences, and utilizing and building upon team member strengths. It is available as a team tool to assist a team in understanding and working more effectively with each other, and is known to immediately improve performance, engagement, and employee satisfaction. These are hard wired characteristics! Asking an employee to excel at something they are just not wired to do is never successful long term. Understanding, respecting, and blending different skills is a learnable task.
12 Driving Forces TM (Motivators)
Driving forces uncovers what motivates and engages an individual in work and in life. At the core of 12 Driving Forces are 6 motivators, rooted in Eduard Spranger's esteemed research from 1928. Backed by decades of research, the Driving Forces assessment reveals 12 motivators that uniquely define what sparks motivation and ambition in each of us. These are also hard wired style characteristics.
Just as the behavioral (or DISC) assessment helps tell us how people behave and perform in a work environment, our 12 Driving Forces™ assessment reveals why they do what they do, and the level of fulfillment or resistance that might be experienced in situations and positions. A match between these characteristics and the characteristics of the job is a large contributor to long-term job satisfaction.
The 12 Driving Forces examine the relative prominence of the following:
Instinctive/Intellectual (Knowledge)
Selfless/Resourceful (Utility)
Objective/Harmonious (Surroundings)
Intentional/Altruistic (Others)
Collaborative/Commanding (Power)
Receptive/Structured (Methodologies)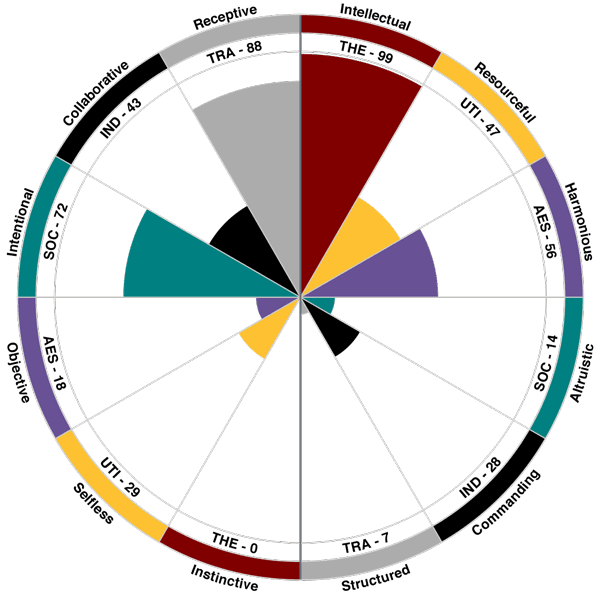 Personal Acumen and Axiological Dimensional Balance
Acumen is assessed using three dimensions of thought, analyzing both world and self-views:
Intrinsic (feeling)
Extrinsic (doing)
Systemic (thinking)
Your personal and business acumen is measured through an instrument that utilizes Dr. Robert S. Hartman's science of Axiology. This is the study of your values and judgments, or how you analyze and interpret experiences, reach conclusions, and make decisions. This assessment is designed to help individuals more fully understand themselves, and how they analyze and interpret experiences. A person's acumen and clarity of perception is directly related to performance. Axiology explores both how perception impacts interaction with the external world, and self-perception, or inner world.
A person's Acumen, or their clarity or understanding of a situation, is directly related to decisions and performance. Our assessments measuring Acumen examine the six dimensions:
Understanding Others
Practical Thinking
Systems Judgment
Sense of Self
Role Awareness
Self Direction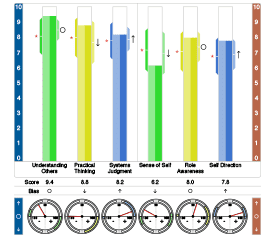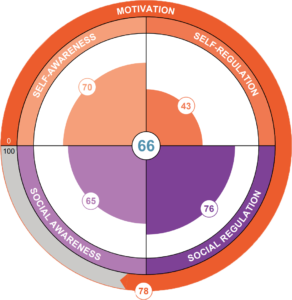 Emotional Intelligence (EQ)
Emotional Intelligence is an individual's ability to sense, understand and effectively apply the power and acumen of emotions to facilitate high levels of collaboration and productivity. Research indicates that EQ is 80 percent of leader success! This enables them to work well with a wide variety of people and respond effectively to the rapidly changing conditions in the business world.
EQ examines five key areas pertaining to intra-personal and interpersonal relations:
Self Awareness
Self Regulation
Motivation
Empathy
Social Skills
Identifying behavior styles (DISC), motivation styles (Driving Forces), ranked personal work skills (DNA), personal and work acumen, and helping you understand how you analyze and interpret experiences (Axiology), and your level of emotional intelligence, all work together to provide a map to develop higher levels of performance excellence.
Check me out on the About Lynne and my Testimonials page. My background and training answers why I can be of assistance to you.
Click the Contact Lynne button for a consultation on how we can utilize scientific measurements to provide a deep understanding of your strengths and opportunities for meaningful development to help you reach your career goals.